Thomas The Tank Engine
Last updated: Nov 2010 Please note that nothing is for sale at this site, it is for information only.

Apology up front: as my children are now grown (12, 14, and 16), they don't play with trains like they used to (my 14 year old still likes them, though!). So, I have not been tracking the world of Thomas the Tank Engine like I used to. Most of the information on this page should still be relevant, however!

As a Thomas Train fan, you may have looked around for theme toys and train sets featuring Thomas the Tank Engine. If you have, you may also have become as confused as I did over all the variety of train sets that are available. There are HO and O scale model trains, wooden train sets, and plastic track sets of various shapes and sizes. How do you decide which to collect for your favorite child (or self!)? The following is the result of some research on the subject I have done, which I hope you find helpful. If you have any corrections or comments, please feel free to contact me!
---
Learning Curve Thomas the Tank Engine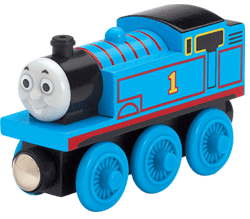 The first trains sets I became aware of featuring Thomas the Tank Engine were the wooden sets distributed by Learning Curve in the United States. These trains are "BRIO compatible", meaning they will operate on similar wooden track made by BRIO. There are also several other makers of similar wooden train sets. Most of the other train articles on this site are about these trains.
Of all of the Thomas sets I have seen available, I like these wooden "BRIO-compatible" sets the most right now. My sons are young (ages 3 and 5) and like to push trains on the ground, thus, remotely controlled model trains are less useful (or fun) for them right now. Also, the wooden track is very versatile. It acts as a puzzle and requires them to think how to create closed patterns of track. The variety of buildings and bridges (many that move, provide loading docks, and so forth) create more opportunities for creativity and "action" play. The trains have a lot of personality, and the compatibility with the many other brands of wooden track means there is almost no end to the extras that can be added. Battery powered trains can be used as well, and though they have a tendency to derail once in a while, they offer a little bit of "remote control" action as well.
It should be noted that while Learning Curve holds the license for Thomas the Tank Engine wooden trains here in the U.S., BRIO licenses Thomas the Tank Engine wooden trains in some parts of Europe. So if you are interested in getting BRIO made Thomas trains, you may be able to find a shop overseas.
Learning Curve's Home Page is: http://www.learningcurve.com
---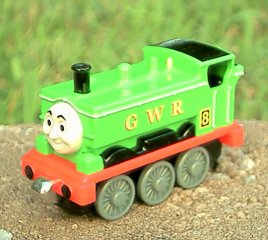 Learning Curve: Take Along Thomas
Learning Curve introduced the Take Along Thomas series of die-cast metal trains that works as a good alternative to the discontinued ERTL series (see below). One of the advantages of the Learning Curve sets are that the trains connect with magnetic couplers. The plastic pin and peg connectors of the ERTL series was certainly not the best design.
Take Along Thomas is widely available now, including at your local Target chain of department stores.
There are play sets available that are designed to be "all inclusive", thus allowing you to take your play set anywhere you go. The track is plastic, and the trains and track sets are not compatible with the wooden railroads. However, you could use them with some of the new "road" track available from a couple of the wooden railroad manufacturers that does not use the raised railroad bed format for the track.

Somebody asked me how to distinguish Take Along Thomas from the wooden Thomas and Friends trains. When shopping on e-Bay, for example, it may sometimes be difficult to tell the difference. As mentioned above, a Take Along Thomas train won't fit on the vario-system wooden track as they are too narrow.

The main distinguishing characteristics are:

1. Take Along Thomas trains are die-cast metal. The wooden track trains are made of wood and plastic.
2. The magnetic couplers are different. The magnets on the Take Along trains are all chrome as shown in the photo here. The wooden Thomas trains have a black round magnet covered with a round chrome cover.
3. The packaging for both have the "Thomas and Friends" logo, but the Take Along Thomas trains include those words in the logo as well.

Hope this helps!

---
ERTL Die-Cast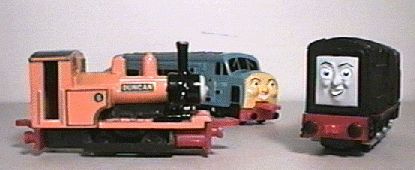 Update May 2004. Actually, this is old news, but I've only just now looked into it! Going by information on the www.ertltoys.com website, it seems that ERTL has discontinued the metal die-cast trains as of 2002. This is the last year the die-cast models appear in their catalog.
The Learning Curve Take Along Thomas sets seem to be a good replacement (see above).
Through the years, ERTL seems to have made several different Thomas Train sets, which adds a bit to the confusion of which sets are which. The die-cast trains my son has were noted on at least one web site as "Regular Edition Series" trains. I have seen them in stores with both an ERTL blister pack label as well as a Shining Time Station blister pack label. As stated, these trains are die-cast metal with plastic wheels (though I think a few of the cars have plastic bodies). They are not as wide as the wooden trains (and won't operate on the wooden track), and generally had cost a bit less than their wooden counterparts. My youngest son has several of these, and seems to like them.
The Regular Edition series runs on track that is similar to Hot Wheels(R) and Matchbox(R) roadways. That is, there is no raised center to the track, it is flat with raised edges. There are several train sets, add on buildings, and so forth available, as well as characters, cars, Harold the Helicopter, and other items. The ERTL Regular Edition series seems well designed for free form play, and is very similar to the Hot Wheel/Matchbox type systems.
ERTL also makes a "Gold Rail" series. The web page that featured these stated they are Japanese. These trains are die-cast or plastic with magnetic couplers. I have never seen these and don't know what size they are. The play sets appear to have small "gold" track built in, thus, I suppose, the Gold Rail title. Prices range from $2.50 for a plastic train to $7 for a die cast to $25 for a Sodor Bay play set. See: http://marketplaza.com/evers/evers.shtml for samples.
ERTL's home page is: http://www.ertltoys.com
---
ERTL Thomas Play Sets
ERTL also used to make a few miniature Thomas sets that fold up into easy to carry play sets. These look pretty neat and my boys love the sets they got. The trains operate on a single wheel that rests inside the raised edges of the plastic track, and come with one coal car. The James set features little logs and boulders that can be set to fall on the track, where Terrance the Tractor must come along and push them off. The Thomas set features Harold the Helicopter in his own hangar. There is also a larger set available which of course is not quite so portable. These sets are not for the very young since they might swallow the small parts. These miniature sets are not compatible with any other products, but they offer enough play on their own (at least until the tiny pieces are lost).
These sets do not seem to be available anymore. Tomy makes a similar small set though (see below, current May 2004).
---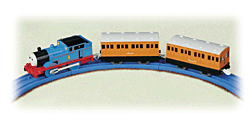 TOMY
Update: I haven't tracked this product for some years, but looking at what's available now (Nov 2010), it appears that Tomy no longer makes a Thomas line under their plastic Tomica sets, although generic trains are still available. The line has moved through several companies, and currently Fisher Price makes the TrackMaster line that appears to be compatible with the older Tomica Thomas trains (see this page at Wikipedia: https://secure.wikimedia.org/wikipedia/en/wiki/Thomas_and_Friends_merchandise)

Tomy (http://www.tomy.com) used to make quite a few plastic Thomas the Tank Engine products.

TOMICA World: The TOMICA World line of battery powered trains is sort of a child's version of electric trains. The track is larger, plastic grooved track; the trains are battery powered; and the trains won't fall off the track like with model trains. The Tomica World line includes non-Thomas trains as well. These sets are available in a wide variety of sizes, from beginner oval tracks to large "metro" layouts. There is a wide variety of tracks, cars, and buildings available. While as a kid I always had an attraction to battery powered trains, I really think the manually powered trains are more fun, but these sets make a good introduction to model trains without the frustrations for little hands.
TOMY My First Thomas: Tomy used to make a series called "My First Thomas", which are larger manually powered plastic trains. They were much larger than the wooden sets, and the trains were larger (and more durable) than the Tomica World trains. They were designed for toddlers who may have temptations to place small pieces in their mouths if they should break free. While the size of the trains made them great for pushing around on the floor, Tomy also offered large plastic track to enhance game play. My younger boy had a few of these and really enjoyed them. They also had rubberized wheels so they have less tendency to scratch furniture. These trains don't seem to be available any more.
Other Products: Some other current (as of May 2004) products include:
Thomas Join 'n Go: Simple Remote Control Thomas backs up and links to Annie & Clarabelle
Thomas Race on the Rails: Thomas, Diesel, James and Percy wind-ups race on a plastic 4-lane raceway.
Bring Along Thomas: small fold-up set to fit in your pocket with Thomas, horses, and interactive play set.
Sodor Engine Pull Backs and Pull Along Thomas: larger floor play plastic trains for Toddlers.
---
OO/HO/G/027-Gauge Model Trains
A few companies make Thomas trains that are compatible with standard model trains, such as G-gauge, OO/HO gauge, and so forth.
---
Bachmann
Bachmann makes HO-scale Thomas the Tank Engine HO-scale electric train sets and cars. The Deluxe Thomas Train Set, for example, comes with Thomas the Tank Engine with moving eyes, Annie and Clarabelle, Harold the Helicopter, Bertie the Bus, the speed controller, and 56"x38" oval track. Other cars are available as well. Products are still available as of Nov 2010.

Bachmann Trains homepage is: http://www.bachmanntrains.com
---
Hornby Railways
Hornby has been in business in the U.K. for over 50 years, and is mostly known for it lines of electric model trains. For the Thomas Train fan, they offer several sets of Thomas the Tank Engine. Some of the sets are not showing current availability on the Hornby homepage, so I'm not sure specifically what is available or still being produced (May 2004).
Hornby's main offering are HO or OO-gauge Thomas sets.
For younger children, you can get plastic track and wind-up or "clockwork" engines. The advantage, of course, is that you don't have to worry about cleaning the track to maintain electrical contact! The trains will also fit the electric HO track as well.
For older children, you can go with the metal HO or OO-gauge track with low-voltage transformer. A variety of Thomas characters and sets are available. These sets can be used with other HO electric trains, and the clockwork engine will even work on this set without needing to plug in the controller!
The Hornby website has an entry for a remote control train. It appears that you can even add additional controllers to control more than one engine at the same time. The description provided is not very detailed, however, and I'm not sure what is currently available.
Hornby Thomas products are still available (in the U.K. only, however) as of Nov 2010.

Hornby's homepage is: http://www.hornby.com
---
Lionel
Lionel used to make a large, garden-scale G-Scale Thomas Train set with Thomas, Annie, Clarabelle, and a circle track with transformer and controller. I believe they stopped production in 2001.

They also used to make an O/O27 Gauge line of electric Thomas Trains. This was dropped in 2002, so you'll have to search the shops and Internet sites if you want some Thomas characters to go with your Lionel O/O27 electric trains. I've heard they made some more in 2004, so check your dealer for the latest!

Finally, the Lionel Great Railway Adventures trains do not feature any Thomas characters, but are compatible with the wooden railways, or you can purchase Lionel plastic track (more information is on the main Wooden Railways page).

A quick look in Nov 2010 showed only a couple of Thomas related products on their website.

Lionel's homepage is: http://www.lionel.com
---
Other Thomas the Tank Engine Information Sites:
Thomas The Tank Engine Official Home Page. Offers news, information on characters, TV listings, online games, and a shop.

Drew's *Unofficial* Thomas The Tank Engine (but good!) non-commercial page.