The Coin Cup

Alias: One Cup and Coins
Miracle Cups and Coins
Miracle Coin Cup
Shrinking Fluid
Shamrock Cups
Leprechaun Cups
Mangna Okito Box
Jo Pro Okito Box


Chazpro Shamrock Cup & Sucker Cup
V4 updated Dec 2007

Many thanks to Doug Brewer, Steve Dusheck, Jerry Mentzer, Dennis Loomis, Curtis Kam, Dan Watkins, Barry Taylor of Barry's Magic Shop, Genii Magazine Archives, TheMagicCafe.com, and Pete Albertson from Ronjo Magic for assistance in the development of this article!


I first became aware of the One Cup & Coins or Miracle Cup and Coins via Doug Brewer's Unexpected Visitor book. It includes a routine called "The After Dinner Trick" that utilizes this unique cup. I loved the idea of this cup, and wanted to find out more about it. This article is the result of my findings.


It started out as an article soley on the "One Cup and Coins" type cup. As I researched the history of this cup, however, I found that there were several cups with different workings but that produced a similar effect. The cups and boxes referred to in this article I am defining as: a cup that is able to hold a coin, and when that cup is inverted the coin can be retained in the cup or released at the will of the performer. The specific mechanisms vary from cup to cup, and will not be discussed here in other than a generic fashion. Also, one of the principles that has greatly enhanced the magic with these effects is the ability to allow the spectator to look into the cup and yet not see that a coin has been retained.

Given that definition, there are a few different "categories" of cups, each with their own capabilities and subtleties that drive the routines capable with a specific cup.

Okito Slot-Boxes

A Slot-Box is a form of an Okito Box. David Roth certainly popularlized this type of box and seems to be one of the first developers, though I haven't tracked down a specific date. The Okito Slot Box allows one coin to be held back when the box is inverted, thus providing many opportunities for the "one ahead" or "one behind" principle, depending on the flow of your routine.

The Flying Coins effect, available today in brass and plastic versions, uses this type of mechanism as well. These boxes are very deep and come in sets of two. They usually resemble more of a stemmed cup, rather than the short Okito Box. The basic routine is that four coins are placed into one cup, the coins are dumped out and it is found there are only three. The other coin has transferred to the other cup and is dumped out to prove it. This is repeated until all four coins have transferred from one cup to the other.


Viking Magic makes both the Midas Cups and the Marlin Cups (a smaller version) that perform a similar function. I don't know the specific mechanism they use. The routine also provides for a shower of dimes to be produced at the end. These cups are nice quality metal stemmed cups and look very classy.

Doug Brewer informed me that at one time Al Cohen had manufactured a single cup slot box that held four or five coins, and was available in aluminum or powder black coating.


Okito Magna Coin Boxes


Some other Okito Box variations are made by Johnson Products that provide similar functionality, though with a different mechanism. These are the Magna Box and the Jo Pro Box. I've seen both advertised in the late 1960's in Genii Magazine and likely elsewhere. They are both still available today.


According to an advertisement in Genii Magazine, Jan 1969, the Magna Box was first designed and routined by Shell Atterbury. The Magna Box is gimmicked like a Chop Cup, and requires special coins to go with it. In addition to the regular gimmicked coins, a J.G. Thompson Coin was available that when inserted into the Magna Box, was undetectable. Thus, a Magna Box with the J.G. Thompson Coin seems to be very much like a Coin Box (described below). The Coin Box, however, is much taller, and is not designed to be used with a lid.


The Johnson Products Jo Pro Box is similar to the Magna Box, but is implemented in opposite way. I can't really say any more without revealing too much!


Stewart Judah's Mystic Coins


In the updated version of Bobo's The New Modern Coin Magic book (©1966), there is listed in Chapter XX Latest Coin Box Magic the effect "Stewart Judah's Mystic Coins Routine." An advertisement in a 1960 Genii Magazine for Mystic Coins states, "Small chromed cap covers 4 coins. The whole thing is then placed on top of the hand. A slight tap - one coin drops right through the hand...The precision apparatus does the whole thing for you." Bobo's book explains the workings, which are slightly different than the other cups here, but it does allow the box to be inverted without dropping out the hidden coin. Also, the coin has the same feature as the J.G. Thompson Coin.


A routine for this prop was also performed by John Ramsay and can be found in The Ramsay Legend, called "The New Pocket Coin Trick". The first paragraph says, "This is an improved version of a trick which John Ramsay contributed to the February 1955 issue of the "Gen" magazine, the British "Tribute to Vernon" number."

An even older description of a coin box can be found in Professor Hoffman's Modern Magic, originally printed in 1876. It describes "The Vanishing Halfpenny Box". The box described was made of boxwood and was just large enough to fit an English Halfpenny. A gimmicked Halfpenny was used, that when placed inside the box, could not be detected. In the routine, a Halfpenny is borrowed, placed in the box, whereupon it vanishes and is found somewhere else. The found Halfpenny is now vanished, and is found back inside the box.


Chazpro Leprechaun Cups:


Chuck Leach of Chazpro made a related set of coin cups around 1995. I found them advertised in the July 1995 issue of Genii Magazine, which headlined: "Introducing Chuck Leach's Leprechaun Cups". The Leprechaun Cups and came in a three different varieties. The Shamrock Cup is tricked out somewhat like a slot-box Okito box, except that it is taller and is gimmicked to allow several coins to be held back at once (up to five). Each coin can then be released one at a time, or in groups, at the whim of the performer. The Lots-A-Coins cup provides a "Lota Bowl" effect for coins, allowing up to 9 coins to be released one at a time or all at once. The Leprechaun Sucker Cup completes the set. It looks just like the other cups, but is too narrow to fit any coins and is not gimmicked. The Shamrock Cup was also available in Brass for a short time.


Unlike the Coin Cup (described below), The Leprechaun cups can take a casual look inside, but they can't be examined (except for the sucker cup). Also, they feature straight sides where the coin cups were typically tapered sides.


Besides the routines that come with the Shamrock cup, Chazpro also produced a VHS video, and Aldo Colombini came up with a routine for the cups as well. You'll likely need to contact either Aldo or Chazpro for details on the Aldo routine as I don't know if it has ever been separately published.

Shrinking Fluid, Miracle Cup(s) and Coins; One Cup and Coins


For this article I'll refer to these cups as "Coin Cups".


The modern Coin Cup has evolved as a stubby shot glass sized aluminum (or other metal) cup that can hold a stack of coins. Using a Chop Cup principle, a coin can be retained in the cup when the coins are dumped out. The additional feature that makes these cups so special is that when the spectator looks inside the cup, the retained coin is not seen.

This principle was first put into action by Steve Dusheck back in 1963 or so with his "Shrinking Fluid" routine (but also see Mystic Coins above) . In this routine (available in his book Dusheck's Coin Magic), a quarter is dropped into a cup of "shrinking fluid" (water), and when the spectator looks into the cup, it is seen that the quarter has shrunk into a minature quarter. This coin is removed with tweezers and handed to the spectator. The water is poured out, the cup is dried, and then handed to the spectator to be examined.

Steve's initial method didn't use the Chop Cup mechanism, and was something you could make at home. In time, commercial products appeared utilizing the Chop principle, and made in aluminum or other metal, and included the appropriate gimmicked coin.

Eddie Gibson marketed a version of Shrinking Fluid in 1970-71 for some time with Steve Dusheck's permission. It was made in black aluminum, and used a half dollar that changed into a miniature half dollar. In the mid-70's, Eddie Gibson produced a 3-cup aluminum set called the "Martini Cups and Coins". They were reviewed in the August 1974 edition of Genii magazine and at the time were only $25 a set!


In a 2004 posting on the Magic Cafe site, Pete Albertson from Ronjo Magic states the following: "The Miracle Cups & Coins...was created as a joint venture in 1975 by Jan's Magical & Ronald C. Diamond (aka Ronjo). Over the years we have made many improvments to all of the supplied items...I actaully was not aware that Steve Dusheck made these." More information on The Ronjo Miracle Cups and Coins are provided below in the products listing.

Jerry Mentzer currently sells a single cup version known as the "One Cup and Coin" at his Magic Methods website. He also references the Coin Cup in his 1975 book "Another Close Up Cavalcade". Jerry credits the basis of his routine to John Murray.


In the 1980/1990s, Al Cohen marketed the One Cup and Coins in aluminum. It came in Quarter or Half dollar sizes, and included the John Murray / Mentzer routine (with permission) from Jerry Mentzer's book, along with another quickie by Al.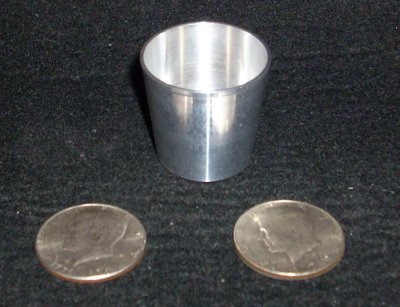 Pictured: Al Cohen (ALCO Products) One Cup and Coin

Just a short time ago, James Riser and Dennis Loomis teamed up for a time and produced the Micro Chop Cup, available in copper or stainless steel. The quality and design of James Riser's products are very good. Sadly, production of the Micro Chop Cup ended in December 2004. In any event, they had made available a special Sacagewea dollar so that their Mini-Chop Cup could be used as a Coin Cup.

I have heard several reports that the initial versions of the aluminum One Cup and Coin were of very good quality, but beware that some of the more recent versions were made in China or India, and the quality was not very consistent. If you can buy in person, ask to see the cup first to make sure the gimmick fits well. Pete from Ronjo Magic states that he is aware that rip-off versions of their Miracle Cups & Coins exist, so beware of your sources.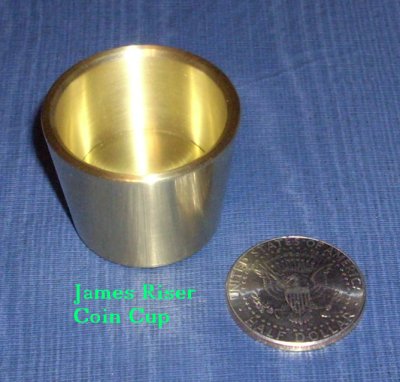 Above is an awesome custom coin cup manufactured by James Riser (http://www.jamesriser.com). It is very weighty and the mechanisms all work to perfection. Not currently in production.


Comments about Routines (see comprehensive list below):


As mentioned above, David Roth has really popularized the Slot Box. He features many routines for this unique box in his videos. Live in London was a VHS tape with a slot box routine; it is included as part of the Stars of Magic #9 DVD (also has Live in Philadelphia). Ultimate Coin Magic volume 2 has much greater detailed Okito Box magic to include the Slot Box (info from post by Dan Watkins on The Magic Cafe).


For the Coin Cup, Doug Brewer has produced the most routines in his book The Modern Coin Cup. A few of the routines in this book were inspired by Bob Bolivar and Jay Noblezada. Doug's book also includes a modified version of Steve Dusheck's Shrinking Fluid, with additional input from Mr. Brewer and Dennis Loomis. Also, one of these routines (The Magic Cauldron) can also be found on the CoinVention DVD.


Doug Brewer also included one additional Coin Cup routine in his book The Unexpected Visitor.


The John Murray / Jerry Mentzer routine comes with the Al Cohen product, and is also found in Jerry Mentzer's Another Close-Up Cavalcade.


Steve Dusheck's original Shrinking Fluid routine is found in his book, Dusheck's Coin Magic.


The only routines I know about for the Chazpro Leprechaun cups come with the cups or are on the Leprechaun Video Tape, as well as the one additional routine by Aldo Colombini.



---
Products (Currently Available as of Sep 2007)


Coin Cups:


Alco Products (Al Cohen): One Cup and Coins. Al Cohen sold his shop several years ago, but I have seen his One Cup & Coins advertised in several e-Bay shops.


Dr. Bob's Magic Store: John Murray's One Cup and Coins. I believe this is the Al Cohen product.


Mentzer, Jerry: One Cup and Coins. Still avialable at MagicMethods.com

Ronjo: Miracle Coins and Cups. The complete set includes: a set of 3 cups, 4 special U.S. Half Dollars, a solid cup, a solid stack, that appears to be a stack of 3 real cups, an elegant carrying bag and "The Complete Guide to the Miracle Cups & Coins", that includes complete instructions and handling methods for over 10 different routines. The cups are 1 1/2" in diameter and stand 1 1/4" high. The stack stands 2" tall. $199

Slot Boxes

: Slot Box Okito boxes are available from several manufacturers, including (among others):

Chazpro Buddha Box
David Roth Custom Coin Box Set
Jim Zee
Todd Lassen
Bob Solari Definitive Magic Coin Box Set



Flying Coins Sets:



Viking Magic Midas Cups & Marlin Cups
Various others: do a Web Search on "Flying Coins" to find sets in plastic, wood, and various metals


Coin Cup Routines:


Click on a highlighted title to see the complete table of contents (where available)
(Note: many more routines specific to Okito Box routines can be found on the Okito Box Reference Guide)


Brewer, Doug: The Unexpected Visitor. Contains "The After Dinner Trick"


Brewer, Doug: Coinvention DVD. features Doug Brewer performing "The Magic Cauldron" (from The Modern Coin Cup book)

Brewer, Doug: The Modern Coin Cup. A 63 page booket with 10 routines for the coin cup (including The Magic Cauldron"). A must have!


Chazpro: Leprechaun Cups VHS Video. Still available if you have a VHS player.


Cohen, Al: Al's Routine for the Cup & Coins. As printed in the manuscript for Alco's "John Murray's One Cup & Coins" product.


Dusheck, Steve: Dusheck's Coin Magic book. Contains the original Shrinking Fluid routine with a cup & gimmick you can make yourself.


Diamond, Ronald C. (Ronjo): The Complete Guide to the Miracle Cups & Coins. Provides some routines and ideas for using the Miracle Cups & Coins set. Available only as part of the complete set from Ronjo.


Galloway, Andrew: The Ramsay Legend. The New Pocket Coin Trick. Not quite a coin cup, but an older approach to it.


Hoffman, Professor: Modern Magic (from 1876). Includes The Vanishing Halfpenny Box.


Mentzer, Jerry: Another Close-Up Cavalcade. Features "One Cup and Coins". Jerry's version of original routine by John Murray. A Chop Cup style routine for the Coin Cup, special coin, and three halves.

Roth, David: Expert Coin Magic Made Easy Volume 11 Okito Coin Box Magic VHS Video. Includes magic for the Okito, Boston, and Slot boxes. (See Ultimate Coin Magic Vol 2 DVD)


Roth, David: Live in London VHS video. (See Stars of Magic #9 DVD). Includes a slot box routine.


Roth, David: Stars of Magic #9 DVD. Includes David Roth Live in London and Live in Philadelphia videos. Live in London features a slot box routine.


Roth, David: The David Roth Custom Coin Box Set. Set of Okito, Boston, and Slot box includes a 26 page manuscript by David Roth.


Roth, David: Ultimate Coin Magic Collection Volume 2 Magic With Coins & Silk / Magic With the Okito Coin Box DVD. I believe this is the same as Expert Coin Magic Made Easy Vol 11 (along with the Coins & Silk Video). Includes slot box routines.


Sanderson, George P.: Right Under Their Noses. George's book features a routine for the Eddie Gibson Martini Cups and Coins (a three coin cup set).


Thompson, J.G.: The Miracle Makers. Includes a section on the Magna Coin Box - J.G. Thompson Jr's routine for this Johnson product; consists of a Boston Box with lid and several gimmicked coins; and The Magna Coin Box: An Appendix



---

Back to INDEX